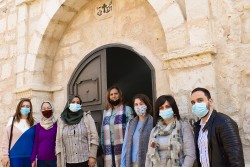 Centre for Cultural Heritage Preservation (CCHP) organized a community meeting in regard to the tourism and heritage and its use as a tool for development, for a group of women who are part of "Mariam Project".
A project implemented by the Alliance Francaise de Bethleem, with the objective to support Palestinian women working in the tourism sector by improving their level of French and allowing greater visibility among francophone clients visiting the country.
The project included French refresher course and general culture course on tourism, as well as preparation for the "Tourism French Diploma" of the Chamber of Commerce and Industry of Paris.
CCHP participated in this project by presenting a briefing about its strategy and objectives, preservation and rehabilitation initiatives implemented as a tool for development especially in the tourism sector, raising awareness campaigns and researches and studies. This session was followed by a site visit in the historic centre of Bethlehem to observe some of these initiatives, among which was the rehabilitation project of Dar Shaheen which is used a Guest house.