With the submission of its Emergency Plan for the Revitalization of the Historic Town of Beit Sahour, The Beit Sahour Municipality, with CCHP's support, entered the competition for the Arab Towns Organization Award - a prestigious and celebrated prize, and won the first award after facing steep competition from many major cities: the port of Domyat (Egypt) was awarded second place for its Bridge of Progress; and Dukhan Old Airport and Mosque (Qatar) was tied for third place with Al-Mutanabi Street in Baghdad (Iraq).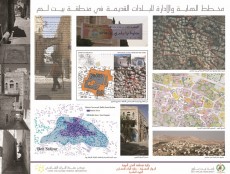 The file presented the plan to revitalize the historic town of Beit Sahour as well as the architectural heritage preservation works, and the conservation works of Dar Dakarat and Dar Qumsieh for the adaptive reuse of the Beit Sahour Cultural Forum and Dar Al-Balad Artisana and Restaurant.
This time, the competition in its 10th session included 115 nominations from organizations, universities, cities and religious institutions from all over the Middle East. In the category of architecture there were 29 nominations in all, 9 in the division for architectural heritage.