This course, which will last for 3 months, come within the framework of developing technical and professional qualifications of professionals and workers in the field of preservation of cultural heritage in Palestine.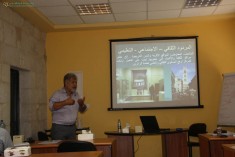 The training course aims to establish and develop the technicalities in the field of conservation and preservation of architectural and historical heritage in Palestine and the acquisition of scientific bases in each of the documentation and conservation principles, theory and history, local and international context, historic materials and techniques, structural problems of the old buildings, and how to manage historical sites.
In this respect, 4 international experts in addition to 3 local experts are engaged to train 15 participants and practitioners in the field of restoration during the period from 10 October 2017 until 10 January 2018.