H.E. Rula Ma'ayah minister of MoTA, Mrs. Mai Keila Ambassador of the State of Palestine in Italy, and Mr. Munir Anastas the Palestinian Ambassador of UNESCO, Mr. Kamel Hmaid governor of Bethlehem, Mr. Hisham Al-Shawa chairman of Bank of Palestine, Mr. Hanna Hanania deputy mayor of Bethlehem, Mr. Lodovico Follin-Calabi Head of UNESCO – Ramallah Office, Mr. Amhad Junaid Sorosh-Wali Head of Culture Unit, Fr. Ibrahim Faltas president of Terra Sancta Schools, Mrs. Elizabeth Qassis on behalf of the owner Alberto Qassis, and representative of governmental and civil society organizations, attended the event.
Mr. Hanania welcomed the guests and pointed out to its importance to the city of Bethlehem and its history as it is located on Star Street, a site enlisted on the WHL, and expressed his thankful to the donors and supervisor of this project.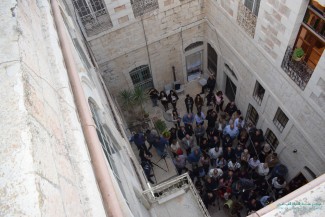 In his turn, Arch. Juha addressed the importance of restoring traditional and significant buildings like Dar Al-Sabagh, which has cultural and historical value that dates back to the end of the 19th century. Thanking the donors Sida through UNESCO, owner of the building who adopted it to be Centre for Diaspora Researches and Studies and the supporting organizations, he stressed on the architectural elements that makes it distinguished.
Mr. Lodovico pointed to the importance of these projects in contributing to preserving cultural heritage. It also reflects the civilization and culture of the Palestinian people.
In her speech, Mrs. Elizabeth talked about the building and her ancestors life in it, which has left a positive impact on her. She also confirmed the Palestinians' belonging in Diaspora to their land and their willingness to invest and cooperate to promote the Palestinian society, thanking all those who had influenced the implementation of the project.
Mr. Al-Shawa stressed the importance of networking with people in Diaspora to invest their money in Palestine, therefor, coordination offices were established is St. Yago – Chili and UAE.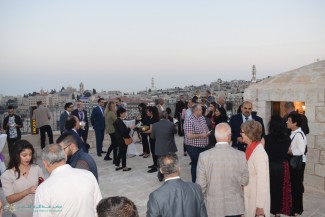 In her turn, H.E. Ma'ayah praised the expressed her delight to inaugurate these projects, and thanked the Swedish government, UNESCO, Bethlehem Municipality for its continuous support for infrastructure projects and traditional buildings to be used for productive, social, cultural and health purposes. She also praised the efforts of CCHP since 2001 in this area, and in providing opportunities for temporary and permanent jobs and adapting buildings for community service.