Adv. Anton Salman mayor of Bethlehem, Fr. Ibrahim Faltas president of Terra Sancta Schools, Mr. Lodovico Follin-Calabi Head of UNESCO – Ramallah Office, Mr. Amhad Junaid Sorosh-Wali Head of Culture Unit and representative of governmental and civil society organizations attended the event.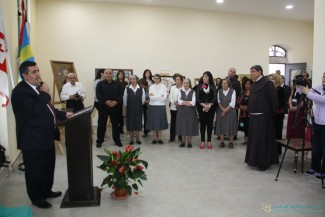 Terra Sancta School for girls – St. Joseph welcomed the guests and thanked all those who helped to accomplish the implementation of this project which means a lot to the students and contribute to building their capacities and technical skills.
In his turn, Adv. Salman praised the role played by CCHP in the rehabilitation of traditional buildings, and addressed the guests to be aware and cooperative of the importance of preserving heritage as one of the importance aspects of the Palestinian Identity, especially in Bethlehem.
Arch. Juha, director of CCHP welcomed the honorable guests and pointed out that the rehabilitated projects reduce unemployment by providing jobs and maintaining Palestinian heritagefor the adaptive reuse and the benefit of the community, in particular this project, as the Mosaic Centre will aim at building and developing the capacities of the students in the Mosaic handicraft and generate income for both the school and the girls.
Moreover, Arch. Juha thanked MOTA, Bethlehem Municipality, Governorate, and Swedish government, UNESCO, owners of the building, project contractor, Steering Committee and CCHP staff.
Mr. Lodovico pointed to the importance of these projects in contributing to preserving cultural heritage. It also reflects the civilization and culture of the Palestinian people.